Biography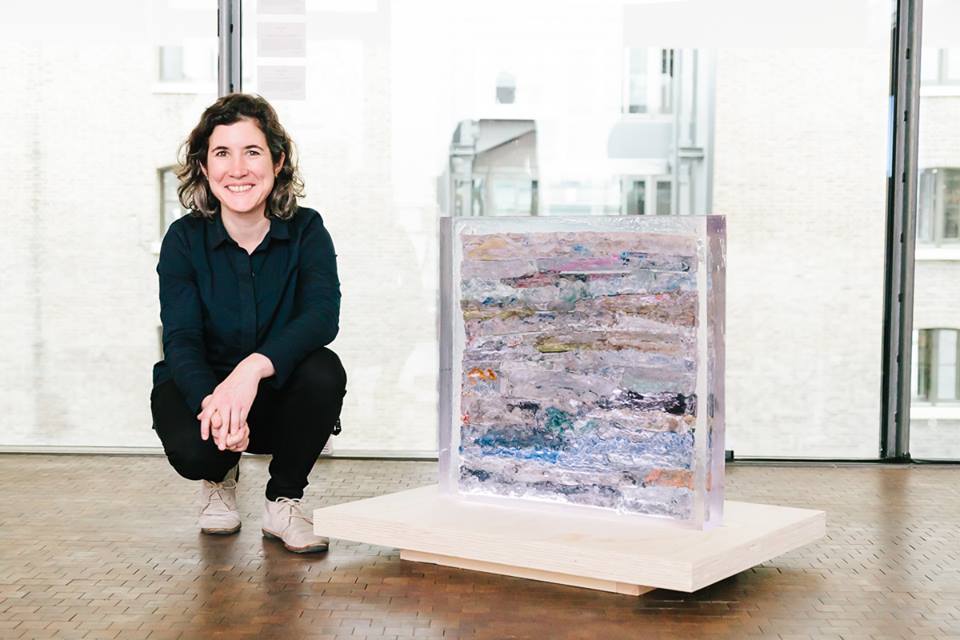 I was born in Salisbury, UK in 1976 and grew up in the south-west of England. Now based in London, I am an artist with an interest in the creative relationships between art and science. My practice explores ways of visualising and communicating climate change through installation, film, photography and painting.
I was awarded a MullenLowe NOVA award in July 2017 for my on-going project What Goes Around Comes Around. The project is the outcome of collaboration with the Government Office for Science in response to their 2016 annual report on waste. The project explores the relationship between consumer lifestyle in Britain and the Arctic environment, with particular focus on the impact of plastic waste. It aims to challenge audiences to question the impact of their own lifestyle choices. Central to this is an exploration of some of the ways in which art can effectively communicate scientific / environmental issues without being didactic or overly moralistic.
I am a graduate of the MA Art and Science degree programme at Central Saint Martins, University of the Arts, London (2017). I also hold an MSc in Multimedia Application Development from Middlesex University (2003) and a BA (Hons) in Art and Design from Central Saint Martins (2000).
Awards
2017, MullenLowe NOVA Award, Runner Up
Residencies
2017, The Arctic Circle, Svalbard
Exhibitions
2018, YAP @ 45 Park Lane, Dorchester Collection, London
2017, Cryptic 2017 – Art and Science, Group show at The Crypt Gallery, London
2017, Imagining CERN, CSM Window Gallery, London
2017, CSM x CMS: Entangled, Group show at Four Corners Gallery, London
2017, Third Matter, MA Art and Science Degree Show at Central Saint Martins, London
2016, Open Studio, Group show at Central Saint Martins, London
2016, Tracing Wastelands, Group show at The Depot, London
2016, CSM Postgraduate Art Auction, Group show at The Lethaby Gallery, London
2016, Cryptic, Group show at The Crypt Gallery, London
2016, Our Laughter Will Drown Your Sorrows, Group show at The Laundry, London
2015, Big Space V, Group show at Central Saint Martins, London
2015, Mind_Matter, Group show at Central Saint Martins, London
2015, BBC Photography Club Annual Exhibition, Group show at 5th Base Gallery, London
2014, London Independent Photography 26th Annual Exhibition, Group show at the Embassy Tea Gallery, London
2012, Pop Up Dorset, Group show at St George Church, Portland
2012, Dorset Art Weeks, Solo show, Shaftesbury, Dorset
2012, Continuum, Group show at the Fine Foundation Gallery, Durlston Castle, Swanage
2012, ZMMA, Group show at ZMMA, Shaftesbury, Dorset
2000, Degree Show, Group show at Central Saint Martins, London
1998, Dennis Desiderata, Group show at the Lethaby Gallery, London
1998, Persona, Group show at Café del Sol, Barcelona
1997, Foundation Show, Group exhibition at Trowbridge College, Wiltshire
Press
2017, Sartorial Snob, Q&A with Hannah Scott, Artist
2017, Judas Magazine, The 2017 London Degree Shows: Five emerging fluid artists
2017, Tottenham & Wood Green Independent, Artist's gruelling Arctic expedition
2017, In\Progress, Hannah Scott: Breaking Into New Arctic Frontiers Combining Art and Science
2017, It's Nice That, Meet the winners of this year's MullenLowe NOVA Awards
2017, MullenLowe Group, Hannah Scott: What Goes Around Comes Around
2017, Central Saint Martins, MullenLowe NOVA Awards Announcement
2017, The Royal Society, What Goes Around Comes Around
2017, SciArt Magazine, Review: Third Matter at Central Saint Martins, London
2017, Giada Giachino, Requiem for a Plastic Bottle