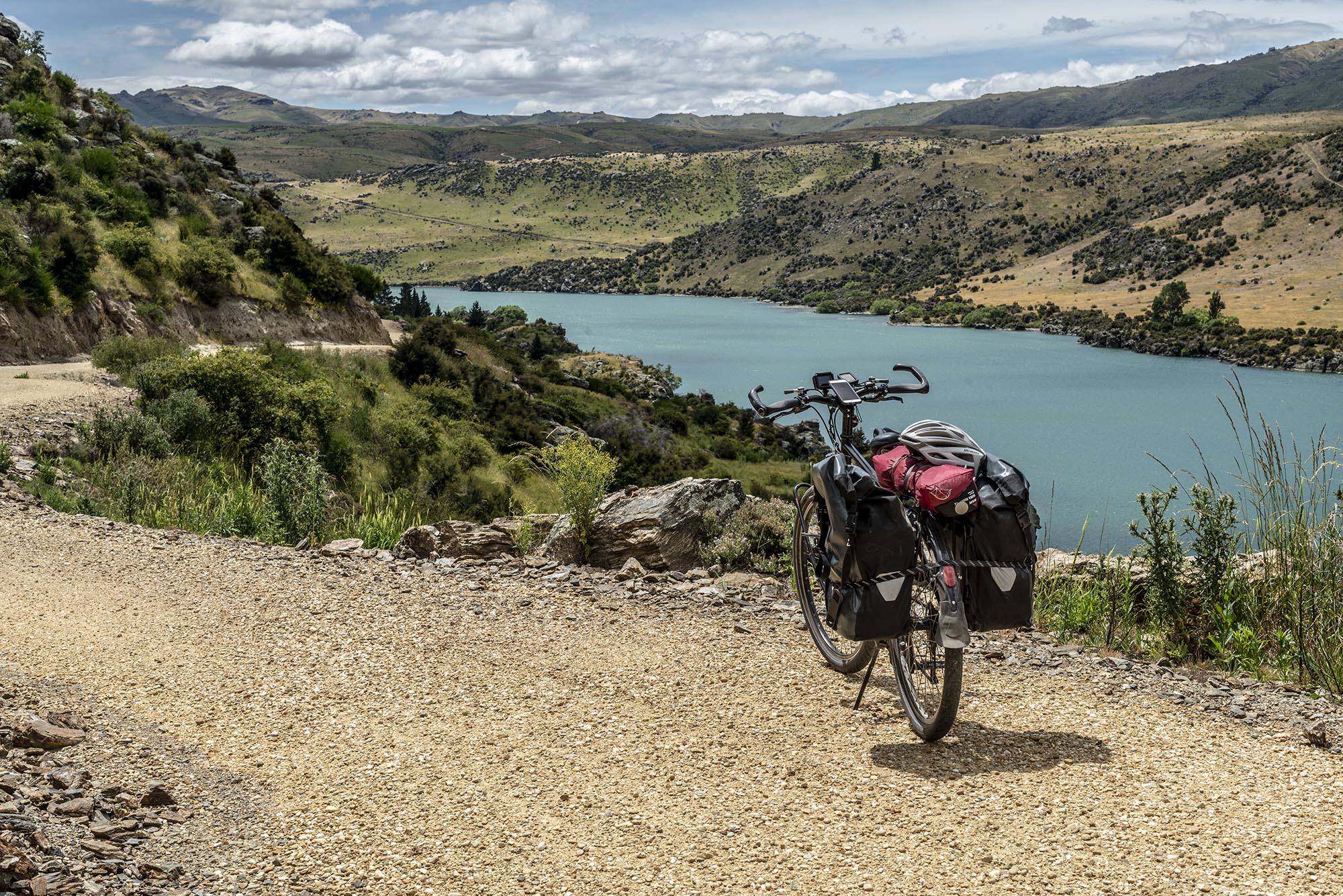 12th December 2018
Port Klang, Malaysia
With the bike loaded and ready to go I turned to wave to the guys but they had already disappeared back to their responsibilities on Kerguelen. Ahead lies two-miles of busy dock with cranes and fast-moving lorries shifting thousands of containers back and forth from the mega-ships moored at each berth. I have to navigate my way across the paths of those taking boxes from Kerguelen. Concerned that I won't be able to keep my balance after two months off a heavy bike, I decide to walk across the tarmac and sunken crane rails, and around the corner behind a pile of concrete dividers so that at least no one on the ship will be able to see me fall. I'm wearing cut-off jean shorts, a blue t-shirt, a cap and a high-viz vest. The port agent instructed me to ride up the right hard shoulder but this would mean riding very close to the unexpecting, oncoming lorries and pulling out every so often into their path to get around random containers and parked vehicles. I stick to the left side and ride wide, away from the traffic, a little more secure that I won't get flattened and a lot more concerned that I will be told off. I pass ship after ship, row after row of containers and bemused dockworkers. Almost at the very end of the tarmac I turn right, away from the water's edge, through an area of warehouses and offices, and up to the security gate. I already have my visa – granted last night at immigration – and so proceed directly to the barrier and the awaiting policeman. He flicks though, nods, hands my passport back and asks where I am going.
Klang City is seventeen miles up the expressway from here. There are apparently no restrictions on bicycles – the only reservation I have is the traffic, which will consist of, surprise, surprise: lorries and containers. It is swelteringly hot – thirty plus degrees and ninety-five percent humidity. Stopping briefly to check the route map my ankles are bitten and immediately start to itch. I'm soaked in sweat and the dust is sticking to my legs, arms and face. Every so often, I pass through the stench of something rotting in the heat. Along the expressway the lorries pass me in a never-ending convoy kicking up dirt and blowing exhaust over me. But they are courteous, slowing, waiting and giving me a wide berth as they pass. One driver rides behind me for several minutes giving me a very welcome break from the traffic but eventually, a hard shoulder allows me enough space to move aside and let him go. He accelerates with a beep, a wave and a big grin. I wave back and feel suddenly elated to be on land and surrounded by people – all be it people in lorries.
With the help of an offline map I manage to find my way on and off the expressway and eventually onto some quieter roads that take me into the city through some of Klang's more residential areas. I pass roadside restaurants, homes, shops, schools, garages, scrubland, potholes and palm trees. Eventually, after a flyover the centre opens out with the odd colonial white building in amongst a melee of more ramshackle Malaysian Indian and Chinese shop fronts. I'm staying with Loo Sin, a Malaysian Chinese woman who has cycled around Malaysia, and who I found through the global cycle network Warmshowers. She is hosting me in her hostel PlayKlang!, in the city centre where I have a beautiful room with very comfortable bunk bed, clean white sheets, super cool facilities and shared spaces. The building is about one hundred years old and has been completely renovated to a high standard but maintains its charm. I'm introduced to the team – they are all young, trendy, chatty and very welcoming – Kim in the kitchen is serving coffee and is a web designer; Wee Wee is sweeping the floor. Upstairs is a shared space for working and social events. What a contrast.
After a shower and a coffee, Loo Sin and her friend Benson take me on a tour of the city. We stop for lunch at a vegetarian Indian buffet, before visiting the local graffiti hot spots, market squares, Little India, and the museum, where I am left to tour the galleries in my own time. The museum, opened by the Sultan of Selangor, is set in a white British colonial building and houses collections of all sorts of objets. Wandering round, I find myself taken most of all by an enormous crocodile head and then by the afternoon monsoon. Unable to leave the building I find a seat on the first-floor veranda and watch the flashes of lightning overhead; the torrential rain; the flooded roads and pavements and the tidal waves pushed towards the pavements from the incessant traffic; the rivers of water rolling down the trunks and leaves of palm trees.
As the rain subsides, I take my chance and walk a long loop around the city – past the Royal Club, the Sultan's Palace, a Buddhist temple where I stop to listen to the monks chanting, a Hindu temple, a Catholic church, a mosque, and through Little India where I am propositioned with some sort of beige powder that I think will make me look younger. All the sights, smells and noises are a sensory overload. Dogs, cats, birds! The noise of traffic and people and exotic animals at night – crickets and maybe a frog. I'm exhausted. Before turning in I show Loo Sin and Benson some photos from the ship and talk about the project. Loo Sin who is clearly extremely proactive writes an article based on my art and publishes it online in Chinese.
13th December 2018
Port Klang to Kuala Lumpur
Terrible sleep again and lots of mosquito bites on my legs. Breakfast of two Malaysian style soft boiled eggs made in a plastic tub, into which you pour boiling water and then leave it to filter through. After about ten minutes the eggs are ready – they are quite runny.
Photo shoot outside with Loo Sin for her records and the article and then I'm off again – cycling into Kuala Lumpur. It's twenty-one miles – not so far but again the heat is overwhelming. I head out of Klang following the route suggested for bicycles. Once again I'm trying to avoid what essentially amounts to cycling along a motorway and am successful for the first few miles until my route disappears into a mess of road works and lanes that no longer exist. I cycle in around the block looking for options – the federal highway looks like it may be the only one – and then I notice a man on a bicycle cycling up the one-way single lane in the direction I originally wanted to go in. Clearly road rules can be broken. I take my chances and follow him through the on-coming traffic for quite some way until the road returns to normal. I find a shady spot, pull over and smoke a cigarette. No one seems to care about my shorts, cigarettes or bad driving.
Half way to KL and I join federal highway number two. To the left is a motorbike lane that is physically separate from the main road. I stick to it as far as possible but am eventually forced onto the motorway traffic. It's heavy and slow, which makes things easier and I'm a bit of a highlight for my fellow road users who pass with waves, greetings and 'where are you froms?'. At what I presume to be the city gates, I stop and take some selfies next to the bike and with some skyscrapers and a signpost saying Kuala Lumpur in the background.
In the end it wasn't too bad and I arrive at Robyn and Jared's apartment just after midday – well before the afternoon monsoon is due. Time to shower, drink a lot of water, sink some paracetamol and have some quiet time. I'm dehydrated and legs are itching.
13th – 17th December 2018
Kuala Lumpur
I'm staying in KL with Robyn, an old friend from school. We calculate that it's been twenty-seven years since we last saw each other and Robyn did confess she was a little nervous – as was I. But of course, it has been absolutely lovely to reconnect and really wonderful to have the luxury of two friendly locals to show me the bars and hang outs. I've wandered around KLCC, been up the Petronas Towers, visited the Eco Forest and the Menara KL Tower, sheltered from the monsoons in random places, eaten delicious food, been introduced to the Christmas chaos within KL shopping malls, explored Merdeka Square, Central Market, China Town, Petaling Street, KL Sentral, Brickfields, and been taken to the wonder that is the wine library – a wine bar in a supermarket with an adjacent smoking room. Following that I fell into a drain trying to responsibly put a cigarette butt into a bin. Thank you, Robyn, for entertaining my slightly drunken indignity, and for an awesome few days with you and Jared.
I had wanted to make the journey all the way to NZ by ship but it wasn't possible so have no option other than to fly this leg and it occurred to me the other day that Annique, a friend from the Arctic expedition last year, lives in New South Wales, which is en-route to New Zealand, so I have arranged to stop off on the way. I'm flying from KL to Brisbane.
In preparation, I've spent a couple of hours packing the bike for air travel for the first time – it's covered in foam (couldn't find pipe lagging which would have been preferable) to protect the frame and components; the front wheel is off and attached to the frame with bungee cords; the handlebars are off and attached to the frame; the bottles and bottle carriers are off and packed in my luggage; the pedals are off and wrapped in an old paper bag and taped in between the front forks to stop them from being pushed together; the front and rear tyres have been slightly deflated; and the whole lot has been put inside a large plastic bike bag brought with me from the UK. My four pannier bags are wrapped up into one big Chinese nylon zip bag. Now praying that my two strangely shaped packages each weigh less than the twenty-five-kilogram allowance. I'm flying with Malindo Air who I've never heard of but who don't charge any fees for taking a bike.
Lovely Mr Lim is my taxi driver and takes me to the airport where my bike bag is deemed to be unsuitable for air travel by the check in girl who tells me it should be in a box or a hard case. "But it's never been a problem before". She ponders for a moment, asks a colleague and asks me to wrap it in clingfilm – then it will be accepted. This grits a bit but I have no choice other than to forgo the flight. It's placed on a revolving plate and wrapped in meters and meters of film, as is the nylon bag containing my panniers. Back to check-in desk, boarding cards and labels printed and attached and I'm sent to the oversized baggage drop-off point. I hope everything turns up at the other end – and in once piece.
18th – 22nd December 2018
Brunswick Heads, NSW
Tuesday 18th – Today is day one of giving up smoking, again. Too excited to worry and haven't slept a wink. Annique is waiting for me in Brisbane airport arrival's hall with a name card and a huge hug. It's wonderful to be here. We breakfast in the city; visit the Asia Pacific Triennial of Contemporary Art at QUAGOMA that Annique helped to install; whizz around on Lime Scooters; and stop for cider and chips before heading back to Brunswick Heads. Early evening walk along the beach and a delicious vegetarian dinner at home.
Wednesday 19th – Visit the town of Mullumbimby and the Byron School of Art. The afternoon and evening are spent wandering around the Brunswick Christmas fair, market and watching the fireworks over the water. Ready to fall asleep but I lie in bed, turning over and over. Aged forty-two, I'm incapable of making decisions. Tonight, two choices overwhelm me – cycle to Sydney and then fly to New Zealand or go direct from here to New Zealand. Despite stopping here in Australia and cycling being spontaneous, I somehow feel I'm letting myself down not following the idea through. I end up falling apart in exhaustion and frustration – all I can see is Mum standing in the porch at home waving me off back to London for the last time. I eventually sleep having decided to go to New Zealand.
Thursday 20th – Morning visit to Byron Bay; walk to the lighthouse and Australia's most easterly point. Afternoon bike ride to Mullumbimby – 9.4 miles in 45 minutes. Discussing plans, I find myself still talking about heading south on the bike. The words come out as if I can't admit defeat. I find places to stay for Saturday and Sunday night and plan a route avoiding the freeway, convincing myself that I'm going and that it's the right decision but later on, cousin Robert's email arrives – am I still coming for Christmas? I book a flight to Dunedin for Saturday.
Friday 21st – 5am alarm and another terrible sleep but I'm cycling with Marco and his friends this morning. We set off at 6am before the heat of the day. It's the first tough ride I've had since September. We cover thirty miles in around two and a half hours, with some long climbs up into the hills behind Mullumbimby, through Goonengerry and Federal. My legs and my lungs burn. I'm the slowest in the group on my heavy, steel tank, but never left behind – thank you Marco for crawling along with me. It's beautiful – amazing views across to the coast, dramatic hills and lush green countryside – not at all what I had imagined. The afternoon is spent repacking the bike for tomorrow's flight to NZ. So, thanks also to Dave's bike shop for helping me out with cardboard boxes and foam lagging. Dinner at Milk and Honey after driving through a huge electrical storm to get pizza – branches and debris strewn across the road and we are forced to turn back. The evening is rounded off watching flying foxes coming in to roost.
Saturday 22nd – Walk along the beach and a last traipse around town before Annique drives me to Gold Coast airport. Checking in proves unexpectedly complicated – I must buy a flight out of New Zealand and my luggage will not be checked all the way through to Dunedin (there are no direct flights from here so I'm flying via Christchurch). I buy a flight out of NZ for the end of April and am then incorrectly told that I don't have the right to stay longer than three months. The flight is delayed by more heavy storms. Wine is required but a glass proves too much as the realisation of this final leg of the trip to NZ hits me. Shelves of duty-free koala keyrings are the only distraction I can find as the clouds break and dramatic contrasting dark greys and pinks fill the choking evening sky. As the cabin crew sit for take-off, I completely fail to hold back the tears. The plane ascends and my pens explode, covering my hands and immigration card in black ink. I feel like a snotty, incompetent child, in a story being replayed, as I remember rejecting Mum when she reached for my hand as we landed in Auckland in 2004, and again when she was dying ten years later. I wish I had been more empathic but it is only now through my own experience of loss that I have found insight. I cry all the way to Christchurch. What if I can't stop crying for the whole of Christmas?
Thank you Annique and Marco for a fantastic week – for being so welcoming and generous, introducing me to this beautiful part of the world and so many interesting and creative people.
23rd December 2018 – 3rd January 2019
Mosgiel and Wanaka
Sunday 23rd – I have the day to kill before my connecting flight south. Christchurch is almost unrecognisable. The centre is undergoing massive redevelopment after the destructive earthquake of 2011 and the collapsed, derelict cathedral is shocking. I remember Mum and I searching for Ken's camera shop to buy rolls of camera film, which we couldn't find because it's pronounced it Keen's. Today, I'm hunting for four Christmas presents that must be beautifully wrapped, and light enough to not take me over my luggage allowance, which is right at the limit. Christchurch art gallery is excellent.
I walk down the stairs from the plane, across a very short strip of tarmac and directly into arrivals where Robert and Jill waiting for me. It's been fourteen years since we last saw each other but they are both exactly as I remember. Robert is as warm as ever and something about him reminds me of Dad. Jill is full of her extraordinary positive energy and infectious laughter. We have barely enough time to say hello before the luggage carousel whirs into action delivering my panniers safely back to me and my bike box appears by magic through a side door. Being an internal flight there's no immigration. Everything feels just as it is meant to be. I'm really glad I'm here.
Monday 24th – Christmas Eve – Kate, Declan, Neve and Hugo arrive from Auckland. I ride a ten-mile square around the Taieri valley up to Outram. Ice cream and wine in the evening.
Tuesday 25th – Christmas day – family lunch with Robert, Jill, Gaye, Chris, Richard, Simon, Kate, Dec, Andrew and Anna. An amazing spread – ham, turkey, salads and veg; and more desert than anyone could possibly imagine – pavlova, cheesecake, trifle, Christmas pudding. The Queen's Christmas speech airs at 3pm just as at home. Can't believe it's prerecorded! Game of 'cubs' – a Scandinavian game throwing wooden sticks. It's super-hot and the sun is harsh. My first Christmas in the southern hemisphere and in shorts. I love the informality of it all.
Wed 26th – Twenty-five-mile roundtrip cycle to Dunedin – it's really hilly! Visit the Otago Museum; the Otago Settlers Museum (I find James Capstick, my second great-grandfather's, records in the research centre); and the Dunedin Art Gallery.
Thursday 27th – Drive up to the farm with Robert – out through the grass and across the hills. The lambs are super cute but they don't have names. Descending back down to Mosgiel we visit the Reid family plots in the cemetery at Outram and pass the house grandma Gwlad lived briefly in when she returned to NZ with uncle John and aunty Margaret during the second world war. (There is also a record listed in the 1947 telephone directory for her at 113a Richardson Street in Dunedin, which is after they returned to the UK).
Friday 28th & Saturday 29th – cycling the Clutha Gold Trail from Lawrence to Alexandra with Jill. Mum had always wanted to walk the Clutha river valley so it feels particularly special to do this and fascinating to see where James Capstick and the family settled having emigrated from the UK. Hannah Jones (my great grandmother) and her husband David owned the garage in Lawrence, where we start our ride from. Day one: Lawrence to Millers Flat. Boiling hot and blue skies. I think Bob thinks we are a bit mad. Brief visit to the museum in Lawrence before we pick up the trail. Jill loses her balance and gains various bumps and scratches thanks to a very uneven section of trail and then again in the pitch-black railway tunnel, which we entered without bothering to turn on our headlights. At Beaumont we pick up the turquoise Clutha river, which takes us past lots of old gold mining relics, all the way to Millers Flat. By chance there's a cabin available and we're saved an uncomfortable night in my tent. Wine and pasta starter in the cabin; dinner in the pub across the river. It's jam-packed and the patron is in a grump – everyone seems tough as nails. Day two: Millers Flat to Alexandra. Lunch in Roxborough. The section from the Roxborough Dam and on to the Roxborough Gorge Trail is much steeper up and down today and very windy. Jill falls onto her bike and grazes her calf on the chainset. It looks like she's been clawed by a wild animal. I am blown off the path and end up falling face first down a switchback and into a giant thistle. Comedy duo. The trail stops at Shingle Creek where a speedboat takes us up the last section of the gorge all the way to Alexandra. Lawrence from London, gives us a history lesson and a tour of the old stone huts built into the gorge cliffs. Jill is an excellent cycling companion and I've loved having her company and laughter. Ice cream in Alexandra before Bob saves us in the ute. We drive on to Wanaka past the giant fruit at Cromwell!
Sunday 30th – Wanaka – day of rest!
Monday 31st – New Year's Eve – a visit to the doctor to get help with my shoulder and arm, which has become really painful. I haven't had a good sleep for the past two years. Chronic pain like this is so debilitating and depressing and I am finally conceding to medication. I'm prescribed 10mg Nortriptyline a day to try and kill the nerve pain. Apparently it is an anti-depressant so I should be pain free and happy. I spend a couple of hours writing an art residency application in the library followed by a shoulder and arm sports massage to help to relieve symptoms temporarily. The therapist is curious to know if I've had any traumatic or stressful life events recently and ends up focusing on my jaw and then recommends acupuncture to loosen it. This feels weirdly quite astute. New Year's Eve dinner at home with R&J and their lovely friends – lots of food, booze, laughter and fireworks over the lake at midnight.
Tuesday 1st January 2019 – New Year's Day more writing all day and dinner with R&J, Kate, Declan & kids, Andrew and Anna.
Wednesday 2nd – Jill and I hike up Mount Iron and then bike on around the lake to a vineyard, stumbling upon a free wine tasting, and then wobble back again around the other side of the lake. On the path up to the vineyard a tiny, fluffy, fledgling bird has fallen out of its nest and is fighting for its life. I can't see the nest and even if I could, and could reach it, it would probably be rejected if I touched it. On the way back down, we find its still body. Barely any time had passed. I feel devastated looking at it. The momentary difference between life and death is unfathomable and unacceptable.