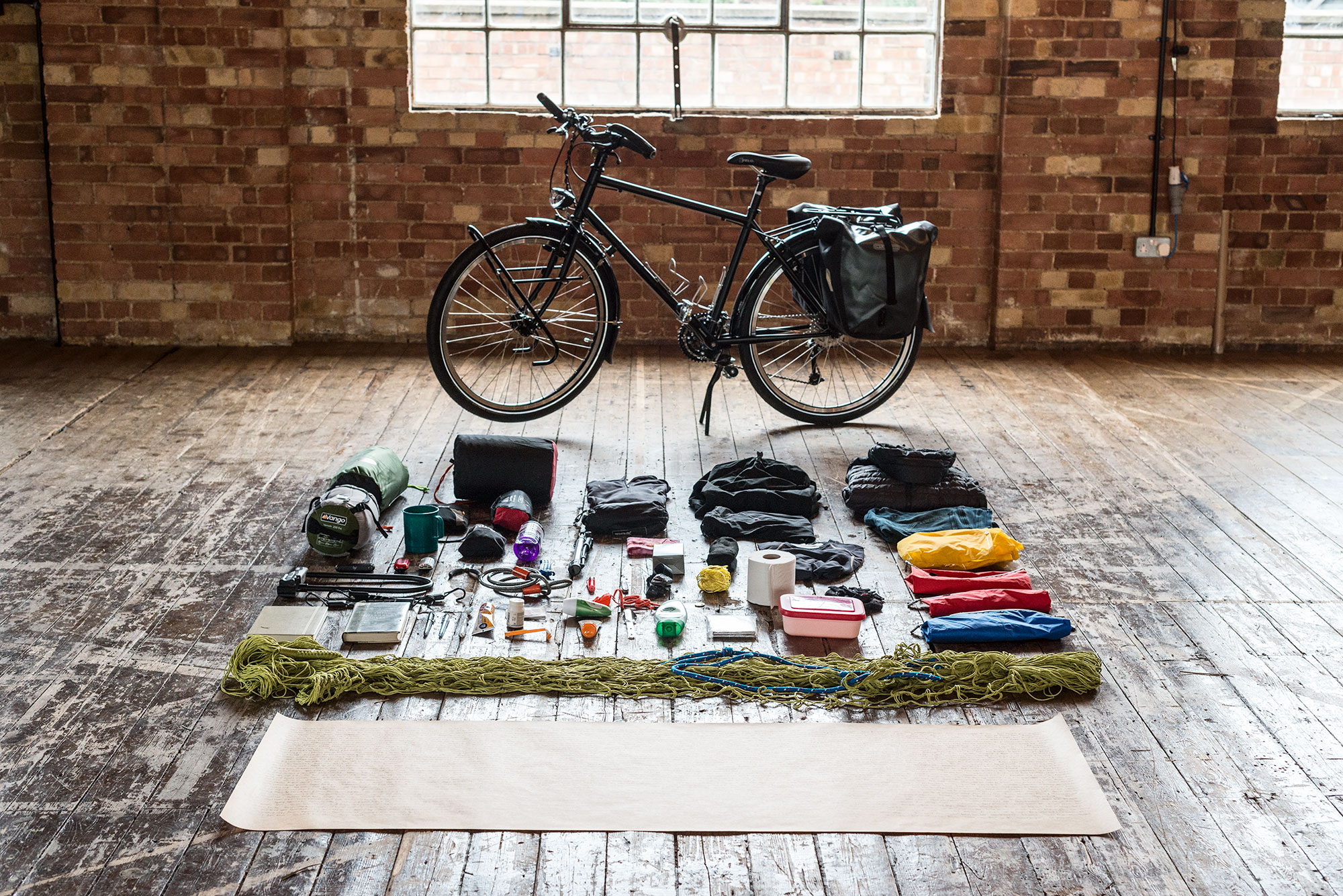 On 25th June 2018, I left the security of my home and my job and shed material possessions to set out on a low carbon-footprint bicycle journey around the UK. The intention is to explore ideas related to climate change, capitalism, consumption, identity, value, loss, psychology, pilgrimage, health and mortality.
To enable a cognitive shift in my relationship to the environment I want to step back and see myself from a distance – to see what defines me now – and to explore how changing this might change me. Collected materials and shared dialogues with selected artists and scientists will be developed as collaborative artworks to raise public awareness and engagement with environmental issues.
The project was introduced at Ugly Duck, London, from 25-27th May 2018, as part of the Lumen exhibition Cosmic Perspectives. This initial installation included a list of everything I own handwritten in ink on brown paper inherited from my father; a bicycle, camping equipment, tools and spare parts, all-weather clothing, notepad, pen, camera, and a net.
How did this come about?
I've been thinking about cycling for a long time. As a child I was out on my bicycle at every opportunity but the seed was really sewn on the Pamir Highway in 2009 when I briefly got to know a couple of guys cycling from Norway to China. Since then the idea has niggled in the back of my mind, often leaving me lost in a daydream – alone, liberated, self-sufficient, present, somewhere remote.
Thoughts about making new art, plastic, climate change, mass consumption, loss and especially cycling were omnipresent for several weeks this spring. I fluctuated between elation, fear and laziness until I sat up in bed one morning resolved to combine everything and cycle around the world. Now or never and never is not an option so to seal the deal I ordered a fantastically expensive expedition bike that would make me feel guilty if left unused.
I started to write a list: things to take, places to visit, a route, people to see. I wrote the column headings in Excel and laid the items I thought I'd need to survive in a square on the floor before realising that I had no interest in planning. I just wanted to go. Not planning has become integral to this project. Following recent years of reorganisation and decision making around my stuff and inherited stuff from my parents (which I find utterly overwhelming), I want to allow myself to drift, for things to unfold, trusting myself, my work, the landscape, happenings and findings to draw me in one direction or another, as Debord's Theory of the Dérive suggests (but more thanks to Steve Bennett for going on about this).
This unfolding journey is the artwork – it is an improvised performance in which I am Velben's accused Conspicuous Consumer, with the time, money and privilege to do what I want, and I am Chaucer's pilgrim, with a good heart, a jolly purpose and a pint, resolved to lift myself out of darkness and share a story that touches wider than my route will take me.
The outcome therefore will be a record of this – text, images, artefacts, connections, dialogues and memories. Observations, arguments, self-critiques, contradictions and justifications. Collaborative interventions with artists and scientists will enrich the response as I travel and retrospectively.
My initial objectives on leaving are roughly to:
Leave all the objects and stuff I own behind for a year. Take only the items I think I need to survive plus a couple of 'artistic props' (see list of things I left with).
Visit the major Amazon distribution centres in the UK. I'm selecting Amazon DCs not because I want to make a political statement about Amazon in particular but because rightly or wrongly I order from them all the time (they are convenient and efficient) and the warehouses are physically massive. They are cathedrals, albeit invisible and unthought of from the comfort of home – holy sites of consumer worship from where we buy our identities – sites of pilgrimage.
Order a pilgrims badge from Amazon when I arrive at each Amazon DC.
Collect plastic artefacts found en route.
Collect samples to measure concentration of plastic in the air on behalf of Steph at King College London.
Collect stories, mementos, etc.
Read Chaucer's Canterbury Tales.
Write a modern Canterbury Tale – The Conspicuous Consumer's Tale / The Amazon Workers Tale…
Film net experiments performance around the UK. To be a series of film shorts.
Travel via container ship from the UK to New Zealand – assuming the identity of an object being shipped around the world – revisiting the journey my mother made aged 3 when she first came to the UK by sea – exploring my grandfather's life at sea in the merchant navy.
Cycle around New Zealand – considering bereavement – personal loss and environmental loss.
Cycle more – considering the body and the impact of pollution on the environment and health.
Overcome pain and fear, feel joy, feel alive.
Exhibit the outcome.