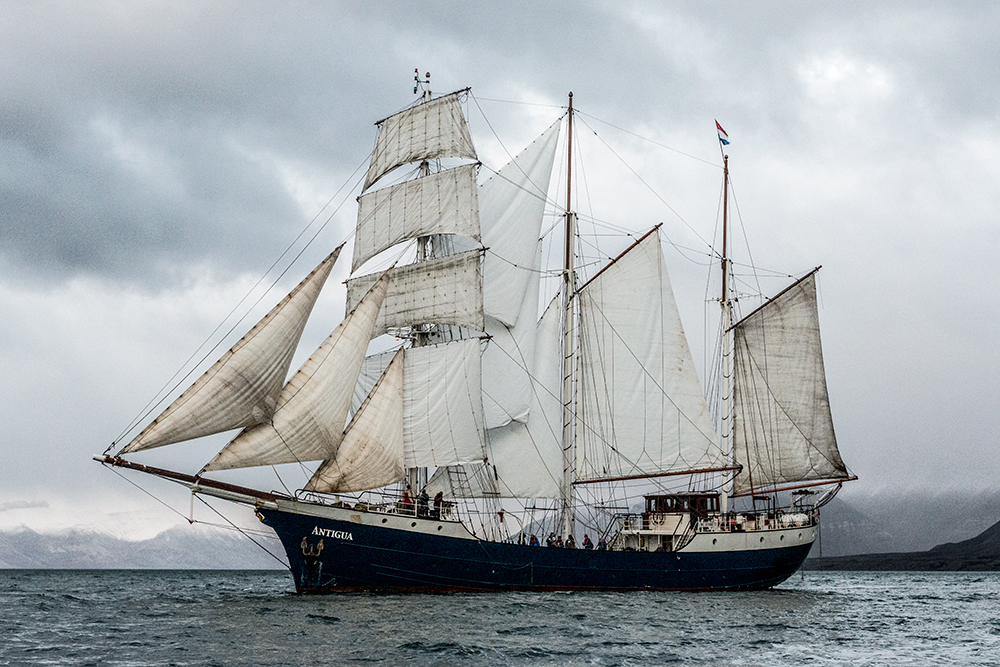 In October 2017 I joined an artist residency on board a traditionally rigged tall ship exploring the coast of Svalbard in the Arctic to further develop my project What Goes Around Comes Around.
Artist and scientist led, the expedition is an annual residency program called The Arctic Circle that brings together international artists, scientists, architects, and educators, enabling a unique interdisciplinary collaboration and exploration of the region, and to engage in central environmental issues of our time.
During the expedition I collected daily samples of dust and other particles, which settle out of the atmosphere, on behalf of Dr Stephanie Wright and her team at the MRC-PHE Centre for Environment and Health, King's College London. These will be used to assess whether microplastics contaminate the air in this remote location. Using special spectroscopic methods, the team will determine whether particles are plastic and assess shapes and quantities, indicating the scale of this issue.
I also conducted a beach clean with the help of expedition members. Plastic debris was collected from Smeerenburg and Fram Bay over the course of a day and included fishing nets, ropes, strapping band, boots, shoes, rubber gloves, bottles, and many miscellaneous plastic fragments. The outcome of this is Beach Clean (2017) – a time-lapse video and installation with collected marine plastic debris frozen in filtered Arctic seawater, low-density polyethylene cast in polyester resin, and an atmospheric deposition sample bottle containing filtered Arctic seawater. The work was installed from 24-27th November 2017 at St Pancras Parish Church Crypt, Euston as part of Cryptic 2017 – Art and Science.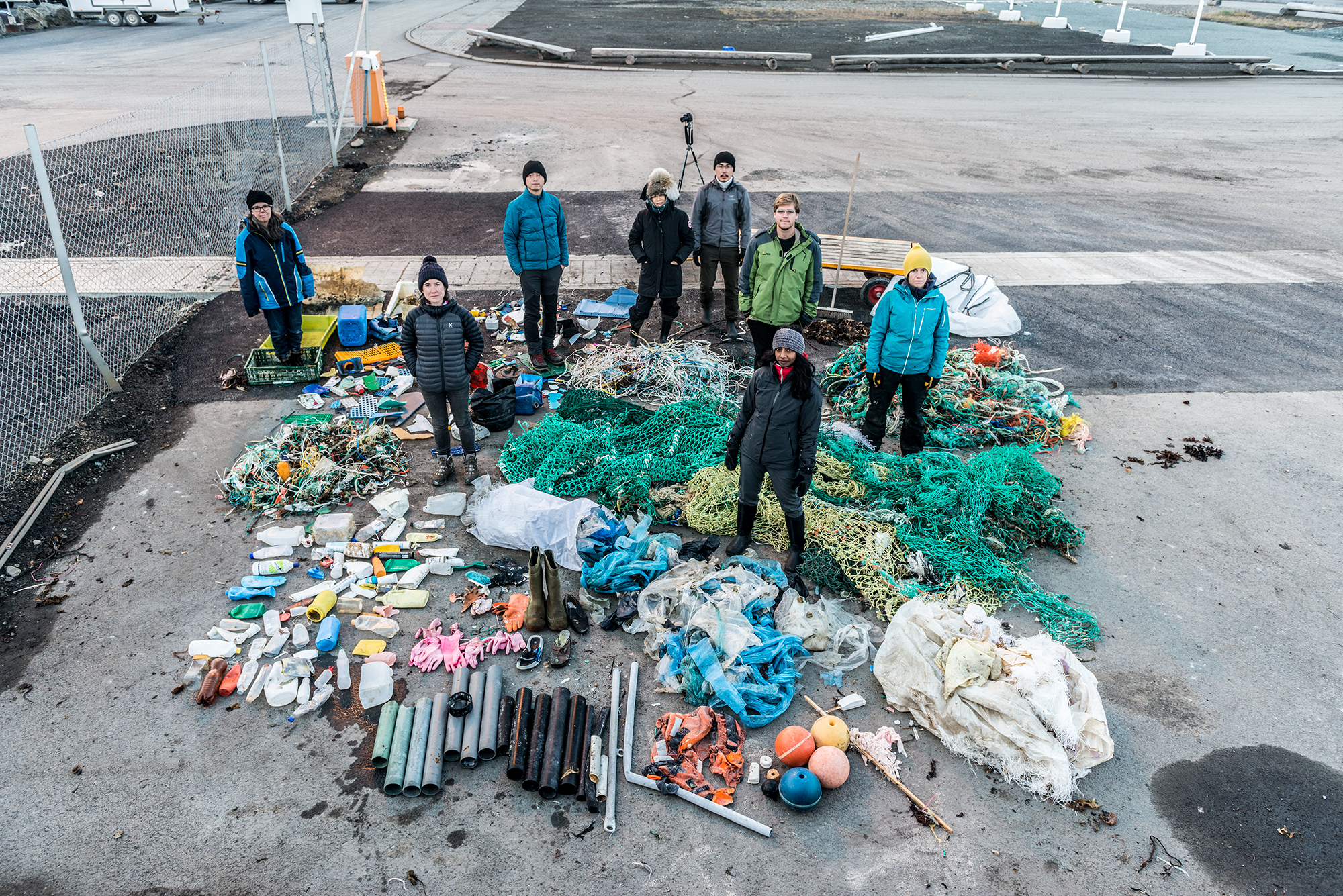 Synthetic and non-synthetic plastics are ubiquitous in modern life. It is one of the most versatile materials, which has allowed the development of infinite technological, medical, and manufacturing advances. However, it comes at a high price through the continued extraction and burning of fossil fuels, growing consumerism, and trends in convenience and single use items, which all contribute to the pollution of the land, air, and water, harming marine life, birds, humans and other animals.
Almost all plastic packaging is designed and manufactured for single-use application. 8 million tonnes of plastic packaging enters our oceans every year and most of the marine plastic litter from Britain ends up in the Arctic, taking less than two years to get there. The Arctic is warming more than twice as fast as the global average and it is predicted that the Arctic Ocean could become ice-free during the summer months this century due to global warming. As the polar region warms and annual sea ice declines, large quantities of microplastics will be released back into the ocean.
Plastics in the ocean can persist for decades at the very least, if not hundreds of years. Ingested by marine organisms, they are passed to larger predators up the food chain as they in turn consume their prey. Laboratory studies show that due to the effect of microplastics, oysters produce fewer eggs and marine worms' energy reserves are reduced by up to 50%. Plastics are also present in the food we consume and in the air we breath. The effect of plastic on human health is not yet known but research has shown that plastics and thier toxins bioaccumulate over time and that nanoparticles are able to cross cell membranes.
What Goes Around Comes Around is an on-going project that explores the relationship between consumer lifestyle and the environment, with particular focus on the impact of plastic waste. It aims to challenge audiences to question the impact of their own lifestyle choices, by exploring some of the ways in which art can effectively communicate environmental issues without being overly moralistic.
Thank You
Sincere thanks to all who have very generously supported this project, anonymous and listed:
Lisa Pettibone
Aurelie Tims
Jake Fowler
David Bunting
Mark Mitchell
Tsvetomir Dachev
Gilbey Strub
Ruth Millington
Jenny Walsh
Maryam Alfa-Wali
Alison Mcknight
William Gibbons
Sandra Terlevic
Libby Ayrton
Nathalie Calonnec
Lennin Arriola
Adam Burstow
David Bunting
Andrew James
Helene Navarre
Melanie King
Joanne Ellis
Jill Mueller
Iain Smith
Kathy Jane
Robyn Coryton
Tom McEwen
Stuart Saville
Nikki Hornett
Caroline Hodd
Bob Lindsay-Smith